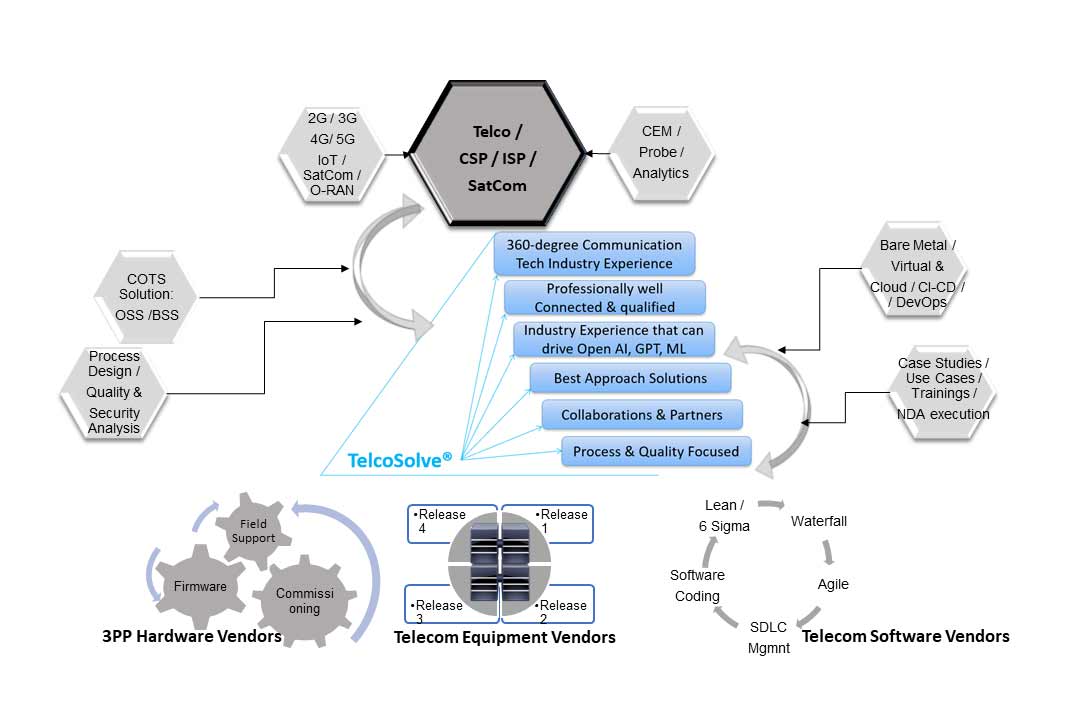 Whenever CSP/Operators have network & service evolution requirements: They approach multiple vendors for fine-tuning their existing Operation Management Systems [OSS-NMS / BSS COTS packages], Data Center Tools Strategies, & Network Solutions. They often go through  painful discussions to bring everyone on common page. TelcoSolve™ plays  significant role in binding stake holders together, bringing down valuable time and cost spent in reaching common understanding. Thereby, minimizing the stressful situations.
We come with global Telco/CSP/ISP Data Center/NMC (network management center) projects experience. Our employees are well experienced, assessed & certified from global communication tech, service provider organizations. We have passion to discuss, understand, and propose suitable functional, non-functional solutions by bringing stake holders on same page. We understand value of multi-vendor-partner relationships in Businesses and importance of sustaining such partnering over long-term engagements, benefits instilled.
At TelcoSolve® we follow International Service Delivery model for Project Contract Stages based on mutual agreement with customers / commercial partners. (Reference: IFRS 15 effective 1st Jan 2018, IR35, OHS, GST/iGST, LUT, IEC etc for B2C & B2B / B2X project engagements):
Identify Contract/Project with the Customers / Commercial Partners.
Identify the Performance Obligations in the Project Contract:

Duration & Contingency of the Service.
Scope Clarification.

Determine Transaction Price:

Fixed Price.
Variable Price.
Significant Financing Components, if any.
Payables to customers, if any.
Receivables from customers, if any.

Allocate Transaction Price.
Recognize Revenue when a performance obligation is satisfied.
Periodic Cost Revision agreements, if applicable.